Moment d histoire avec Peter Martin
Les compétitions internationales permettent de faire de belles rencontres...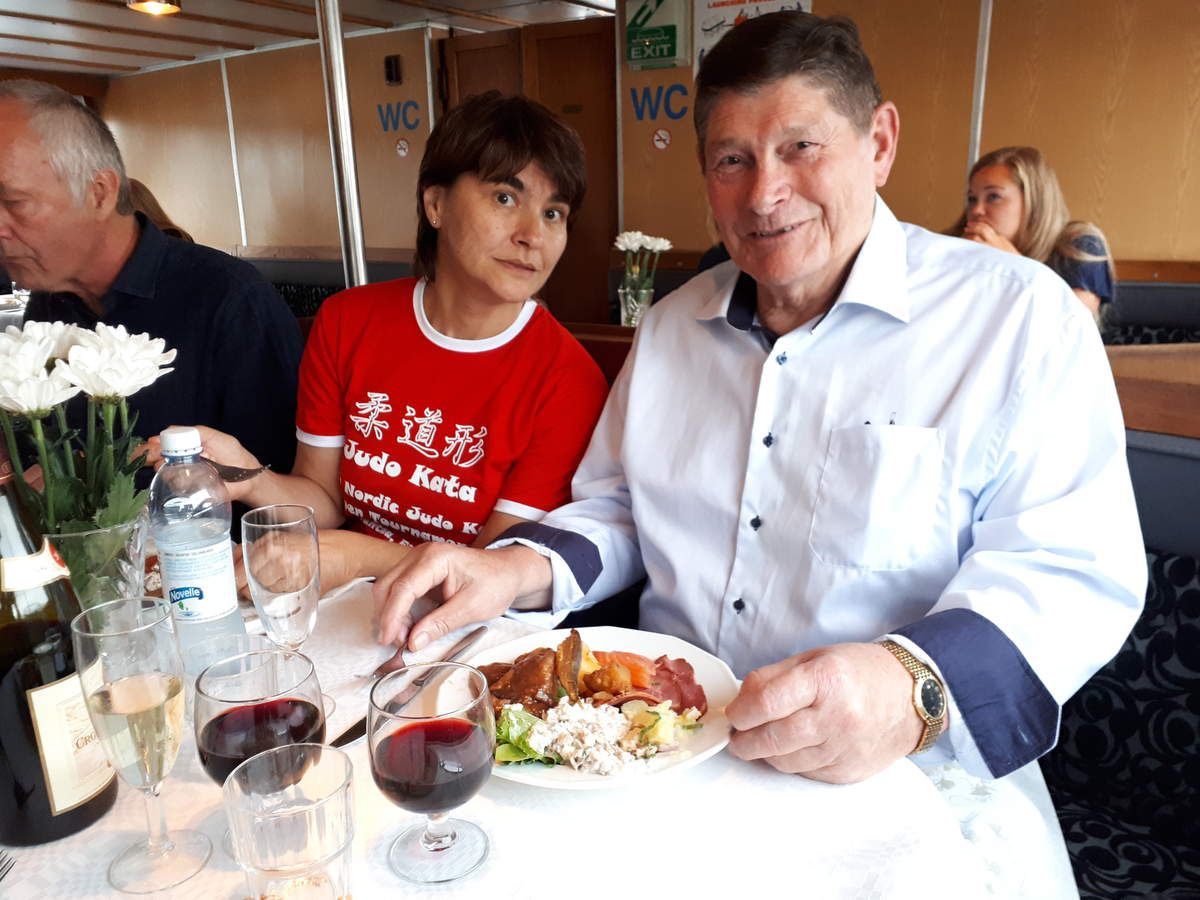 Hier, à Helsinki, nous avons diner avec Peter Martin, 7e dan, ancien membre de l'équipe de Grande Bretagne avec David Starbrook. A 78 ans il est toujours présent sur les tatami comme "juge international kata" et il nous a fait partager sa passion du judo...
Nous espérons bien le voir un jour à Chambéry... l'occasion pour lui de retrouver son camarade Lord David Starbrook (10e dan) qui est souvent en Savoie...
Dear Vincent and Christine.
I hope you both came home safely from your visit to Finland.
Here is a picture of David Starbrook throwing Jean Luc Rouge, (French former World Heavyweight Champion 1975) for Ippon with his left Tai otoshi at the Montreal
Olympic Games.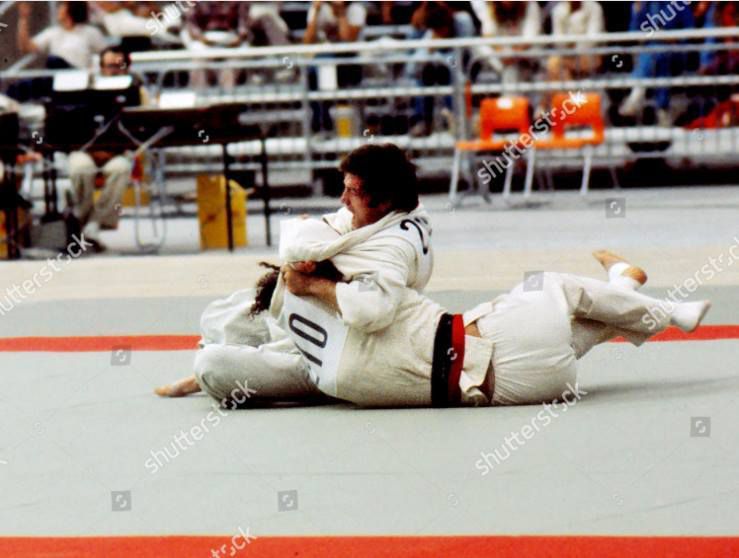 David went on to win the Montreal Olympic Brons Medal at Light-heavyweight, (Rouge had gone down to the Light-heavyweight class).
I have a attached a picture of the London Team 1970.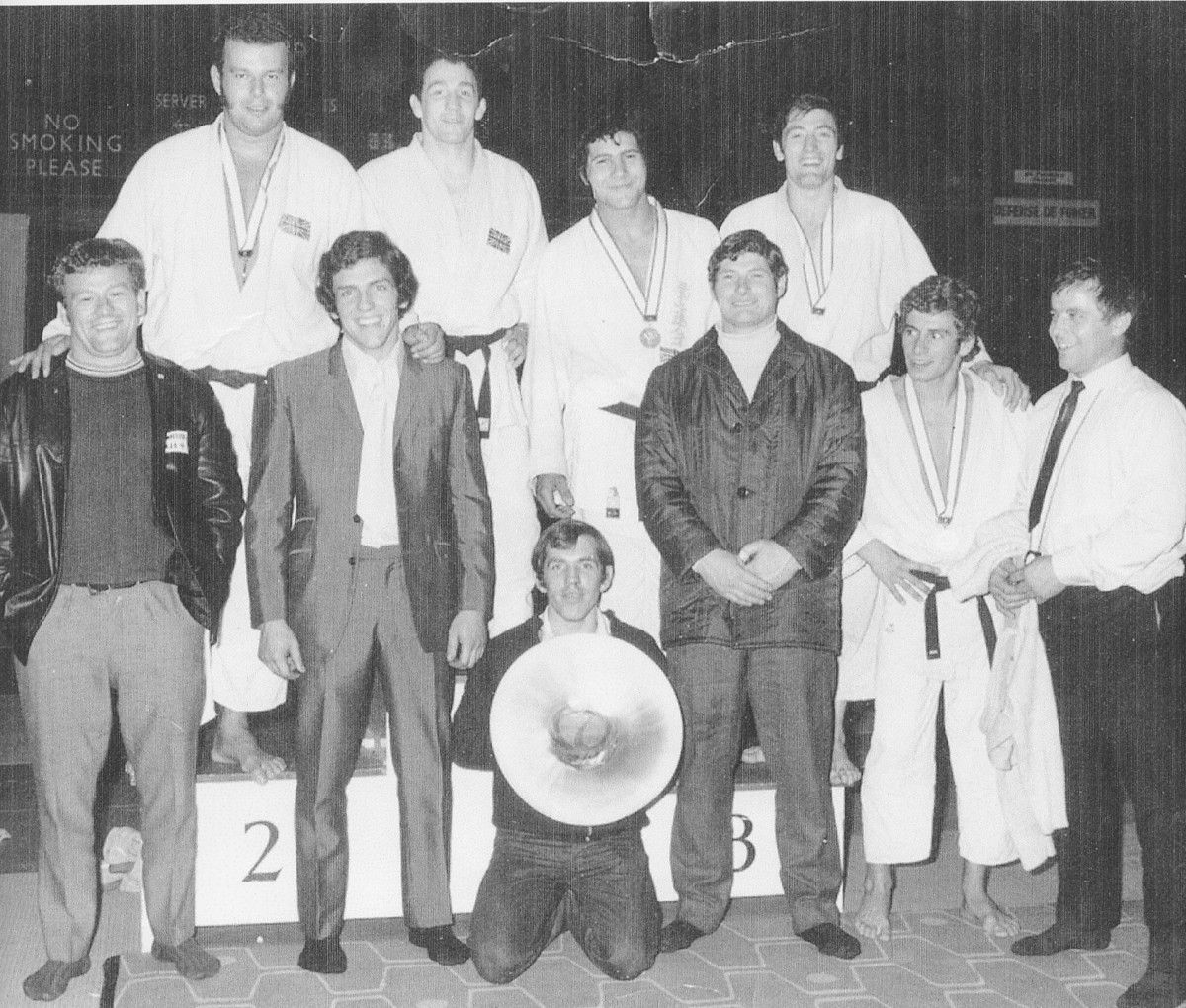 The people in the picture not in judogi are the reserves.
I am standing in front of a young Angelo Parisi (he was just 18 years) Light-heavyweight - and the then Middle-weight David Starbrook.
I was reserve for Heavy-weight Keith Remfry, the big man standing at the back on the left.
This team won the EJU European Team Championship 1971.
At the Montreal Olympics Remfry lost in the final to Endo, the Japanese Heavy-weight Champion - so he received the Olympic Silver medal
and David Starbrook went on to win the Montreal Olympic Brons Medal before retiring from shiai.
(David had gone up a weight class).
Earlier at the München Olympic Games 1972 at Light-heavyweight, David Starbrook won the Silver medal, losing in the final to a man from Soviet.
Also the München Olympic Games 1972, Angelo Parisi won the Olympic Brons medal in the Open-Class to a man from Soviet.
For France, Angelo won the Olympic Gold medal in the Moscow Olympics and the Silver medal in the Los Angeles Olympics.
Best regards
Peter Martin 7 Dan.
PS:
Here are a few more from me.
1. At my "mother club" London Judo Society, where I became a member in 1958.
After the IJF World Championship in Paris 1961, the former Japanese World Champion from 1956 visited our club in London, England.
His name was Natsui sensei Kodokan 8 Dan.
I was then a 21 year old 1st Dan, and my sensei, seen standing in the middle against the wall told me to practice randori with Natsui sensei.
2. Natsui sensei and my Judo sensei Mr Senta Yamada Kodokan 6 Dan and Aikido 6 Dan.
Yamada sensei was the Judo student of Jigaro Kano and the Aikido student of Professor Tomiki Kodokan 8 Dan and Aikido 8 Dan.
Professor Tomiki was the Aikido student of O-sensei Ueshiba, the founder of Aikido.
Tomiki was also in the group of Kodokan senseis that founded Kodokan Goshin Jutsu in 1956. Goshin Jutsu was originally an Aikido kata.
3. In 2007, I visited my sensei Mr Senta Yamada at his home in Fukuoka, on the island of Kyushu, Japan.
I had been at the Kodokan and took the Shinkansen express train to Fukuoka.
Yamada sensei unfortunately died in 2010 aged 86.
4. At the Kodokan Summer Kata Course, talking with Matsushita sensei Kodokan 9 Dan, Vice President of the Kodokan.
He was an old friend of Yamada sensei.
5. Practicing randori with Yamada sensei in 1964, I was getting ready to fight in the British Judo Associations Olympic Trials, which would
be the selection for the British Olympic Team for the Tokyo Olympics 1964.
It was a very hard selection competition with many matches.
I managed to become a reserve for the heavyweight class - but as the Federation only had enough money to send the team, no reserves could take part.
6. At the Kodokan, together with Umezu sensei who is now a Kodokan 9 Dan. She told me that she was also from Fukuoka and when she was a junior and she belonged to the same Judo Club in Fukuoka as Yamada sensei. They were friends there when they were young.
She was very nice and took care of me at the Kodokan.
.../...

Here are some more picture.
In 1970 I became a member of the Renshuden Judo Academy in London and trained together with David Starbrook.I moved to Sweden in 1973 and married my Italien wife Norris. I worked for Volvo Heavy Truck Inc. until I retired.I left the British Judo Association in 1973 and became a member of Judo Club Budo and the Swedish Judo Federation - I still am.
Pictures 1 - 2 and 3 are from when I became the Swedish Heavyweight Champion in 1975.In the final, I met the Swedish policeman who was Police European Champion.He was 193 cm and weighed 130 kg.I won with my right tai otoshi.
4. is from when I attended the first IJF Kodokan Kata Seminar at the Olympic Center in Rome, Italy.There were people from all over the world taking part.The seminar was led by Daigo sensei and assisted by Sato sensei (who teaches on the Kodokan Kime no kata DVD)and Sengoku sensei (who teaches on the Kodokan Katame no kata DVD).Iura sensei (standing to the right) translated the teaching of Daigo sensei on the seminar from Japanese to English.
5. is of Sengoku sensei and me at the Olympic Center in Rome.
6. When I became an EJU/IJF Kata Judge, I judged for several years at the Tours kata tournament in Tours, France...Do you recoggnise the french judges? Take a look !
.../...
In 2010 I received this beautiful trophy from the Finish Federation at the Nordic Judo Kata Open Tournament in Helsinki.
It was because I had started this kata tournament in Sweden in 2008 and it was growing.
See the attachment - it's written first in Norwegian and then in English.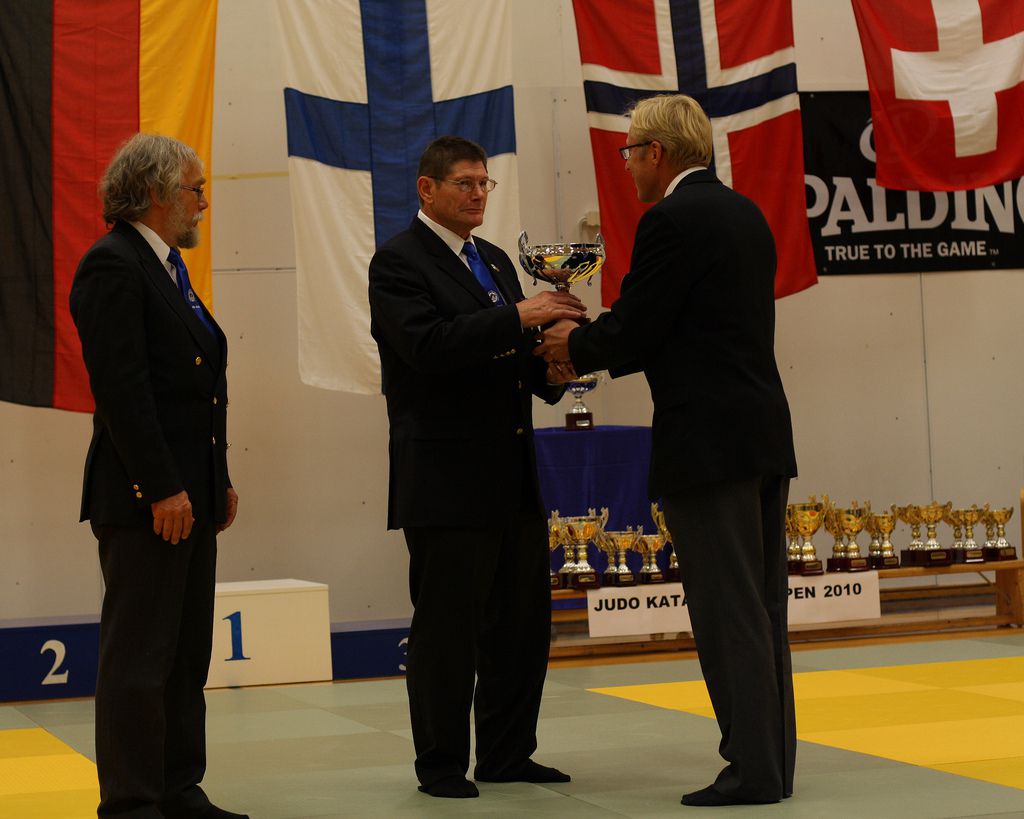 .../...
Some more pictures.
1. Umetsu sensei (now Kodokan 9 Dan) teaching Ju no kata at the Kodokan Summer Course.
Iura sensei Kodokan 8 Dan is explaining in English the techniques.
Umetsu sensei and her English student Margot Sathaye came to Stockholm, Sweden in August 1999, and she taught Ju no kata.
I was on the course - so Umetsu sensei was the one that taught me the ju no kata.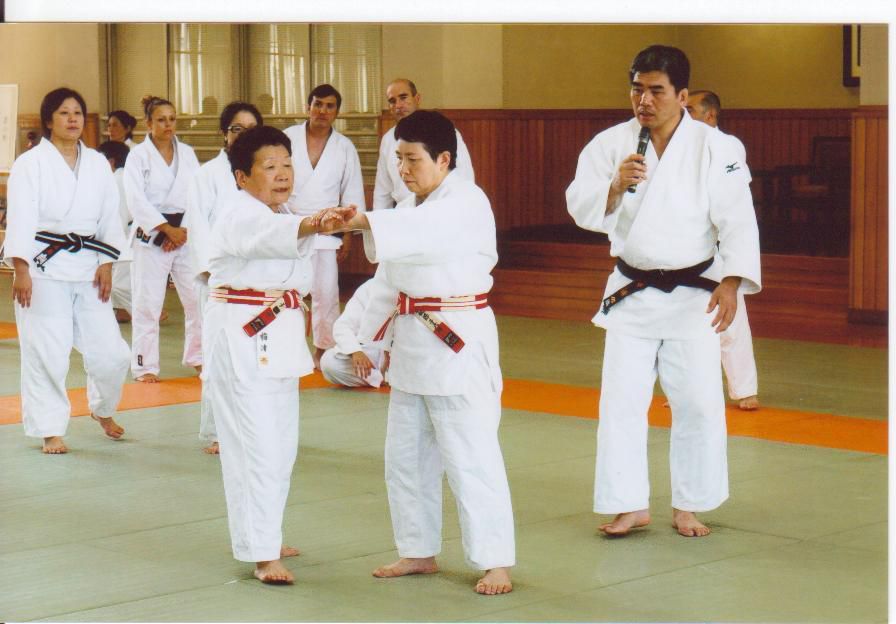 After the IJF Kata Course in the Olympic Center Rome Italy Easter 2000, Iura sensei told me he lives now in Iceland (his wife is from there).
He asked me if I was interested in him coming to Sweden to teach kata - I said of course "Yes please"!
Since then Iura sensei has been coming here every year teaching us kata.
2. In 2003 I was asked to become a Kata Judge for the World Masters Judo Association, which is based in America and Canada.
The Kata Director was Keiko Fukuda sensei Kodokan 9 Dan, seen here in Toronto Canada coaching Ju no kata at the seminar after the Kata Tournament.
I thought she was amazing!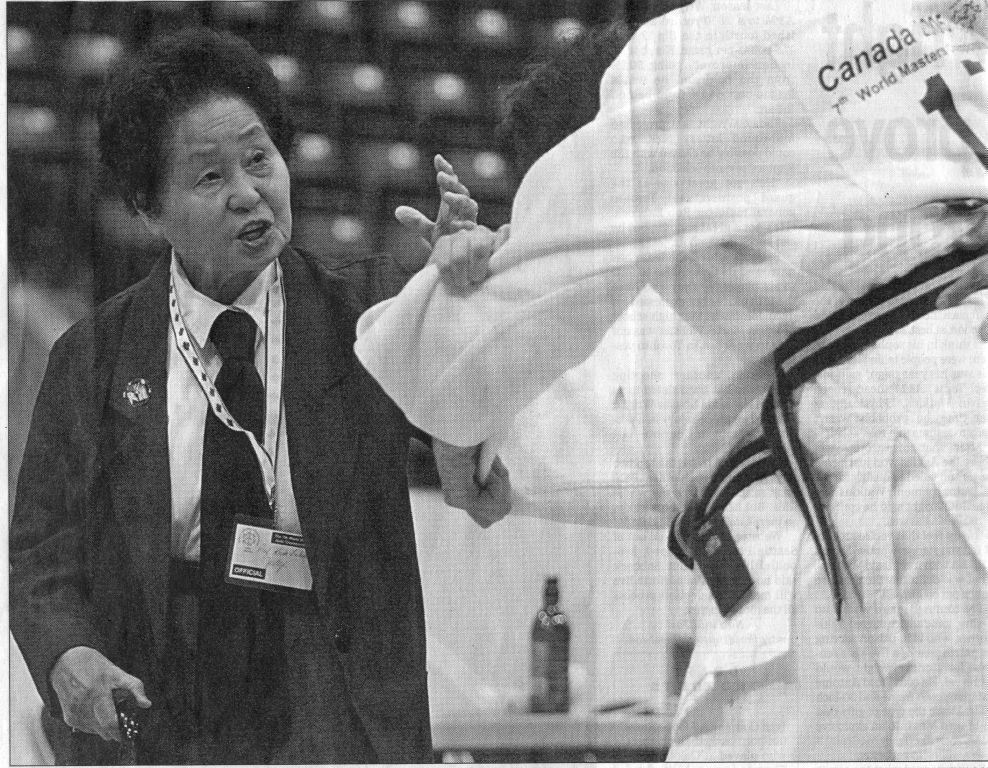 She was the last living Judo student of Jigaro Kano Shihan.
She would sit at the edge of the mat in her wheelchair - and if she saw something wrong, she would jump up and go over to correct it.
In May 2004, I was awarded my EJU (European Judo Union) Kata Licence at the Olympic Center Rome Italy.
December 2005 I was selected to be a Member of the EJU Kata Commission at the EJU Congress in Moscow Russia.
In October 2007 I represented the EJU as a kata judge at the 1st Kodokan Judo Kata International Tournament, held at the Kodokan.
In November 2008 I was awarded my IJF (International Judo Federation) Kata Licence in Paris France.
3. The judges meeting at the 1st Kodokan Judo Kata International Tournament.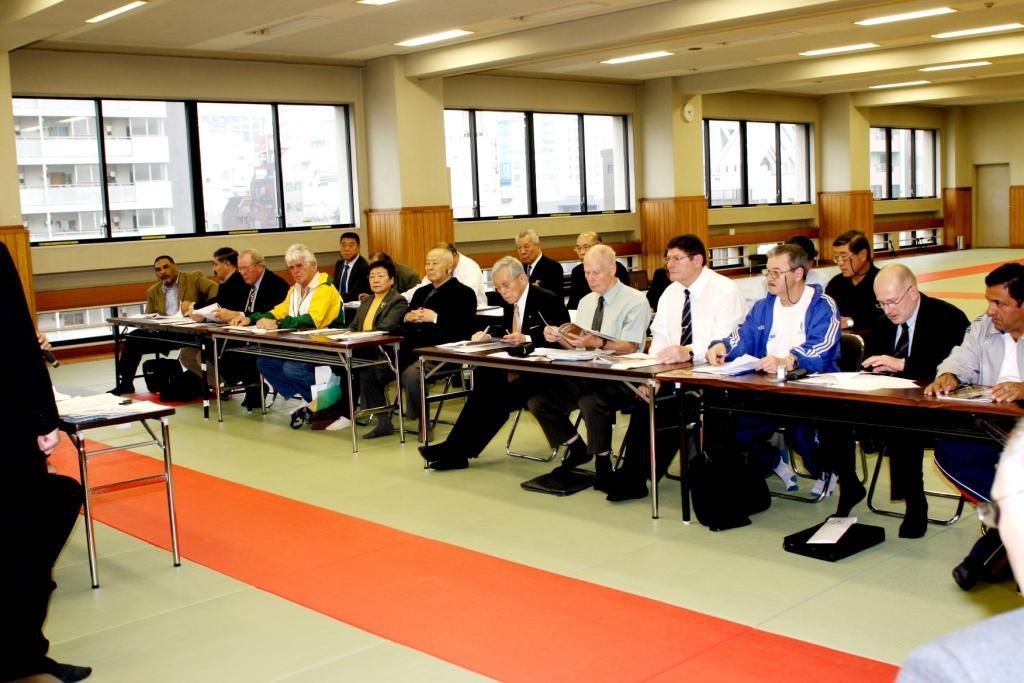 4. Me, representing Sweden, judging Kime no kata.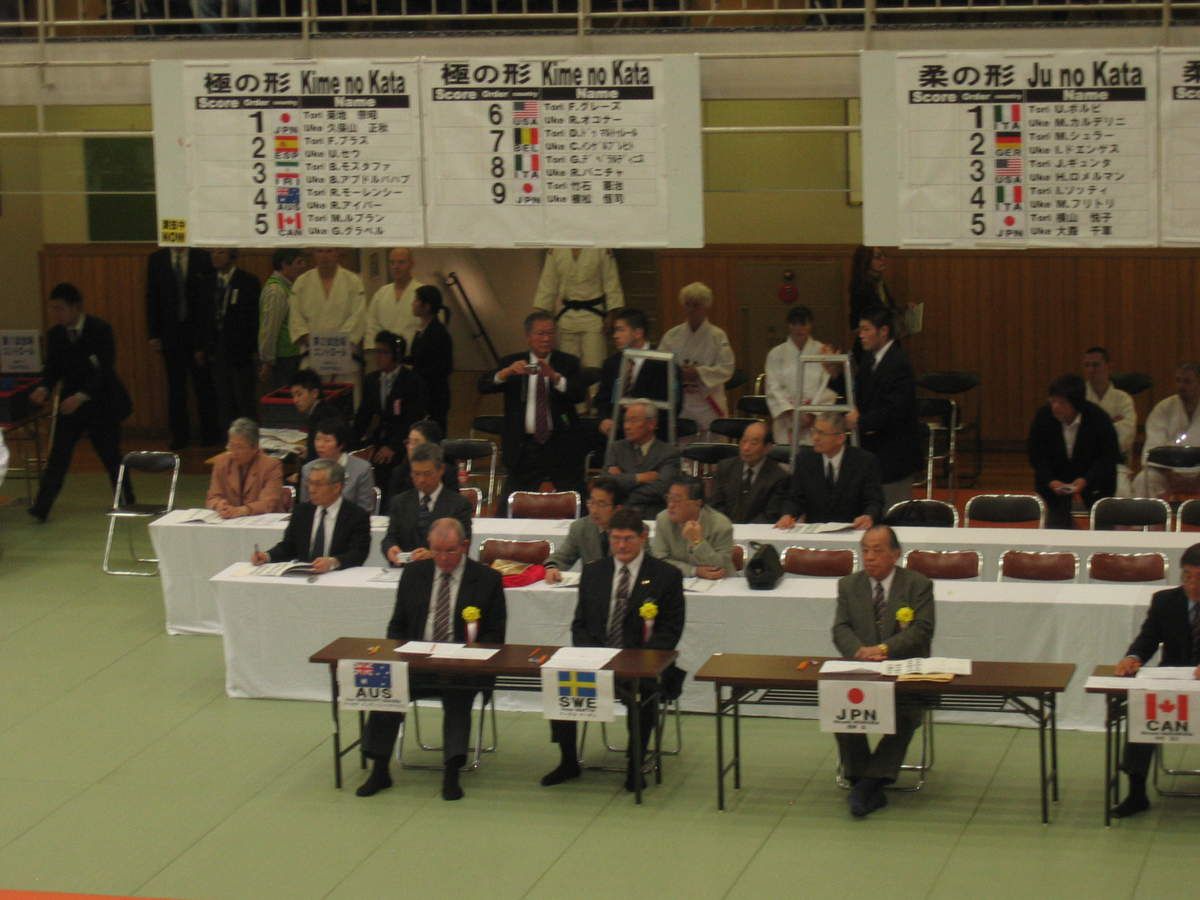 5. The medal ceremony.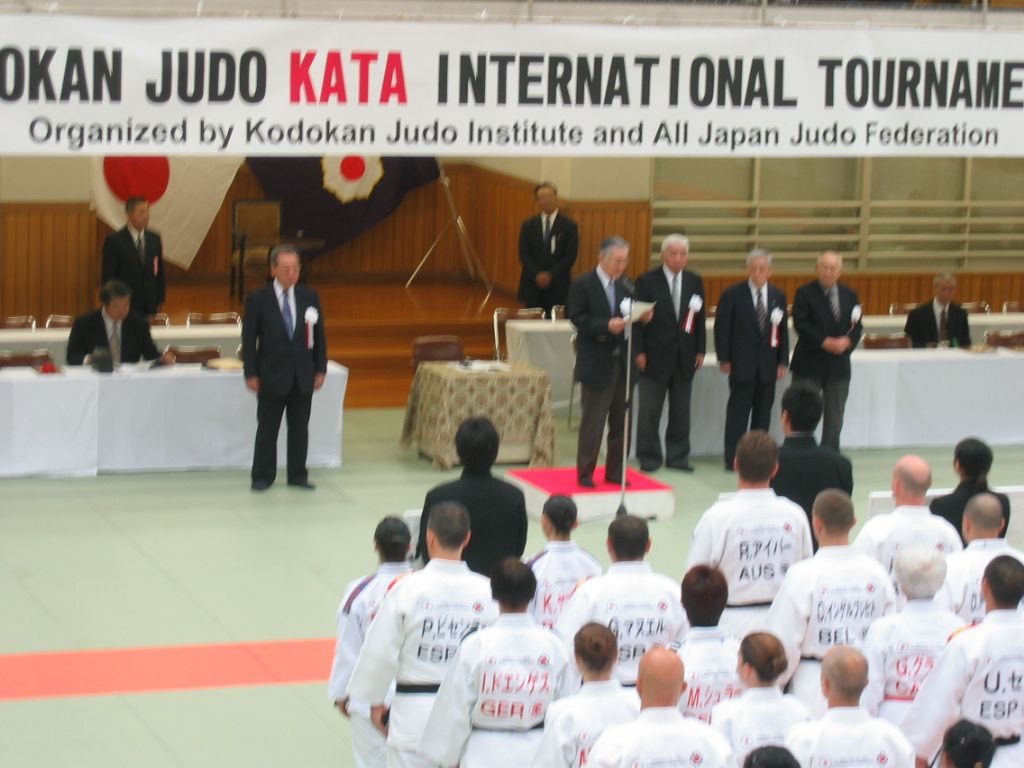 6. The judges, from the 5 Continental Unions of the IJF - plus the Kodokan senseis.
I am standing on the left, behind Umetsu sensei.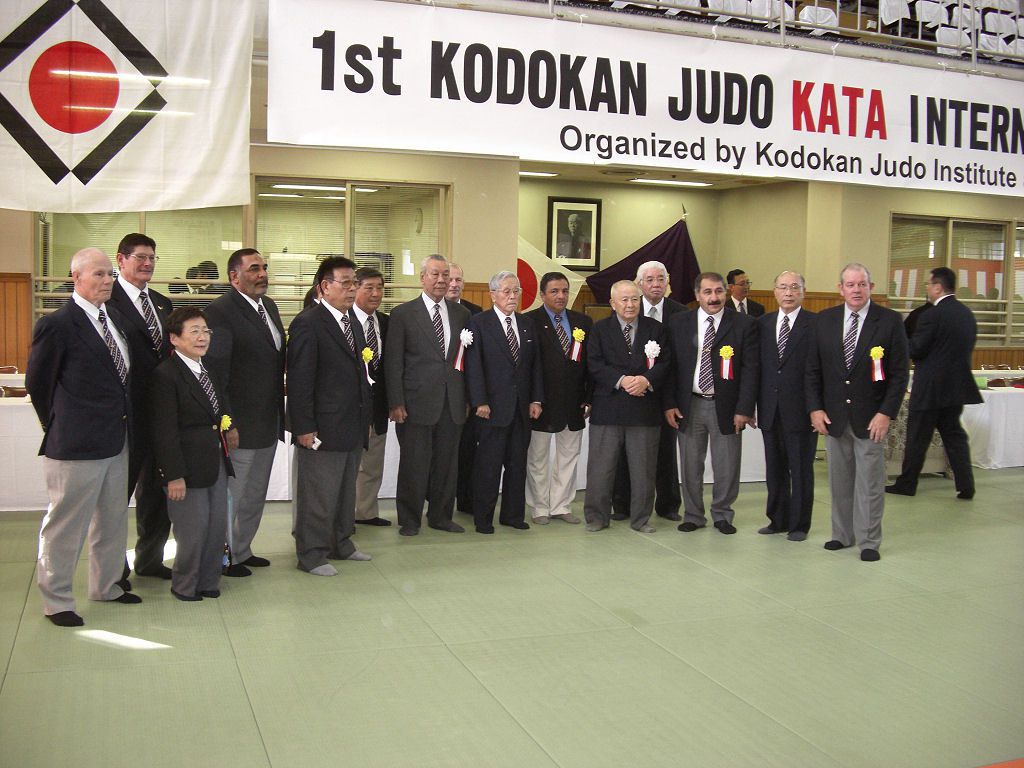 Do you recognize any of the others?